Stowmarket Rookery Bowls Community Hub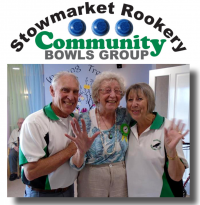 In the autumn of 2017 Stowmarket Rookery Bowls Community Hub was formed.
Our aim is to bring bowls into the community. We have done this by creating a community hub and by making our club more accessible to those living with disability.
The Rookery Community Hub provides a safe place, where people living with disabilities and those who are lonely and want company, can come to relax, meet people, and have fun.
We also welcome people living with disability or loneliness to come along and experience bowling. It is a great way to make friends.
Contact secretary@rookerybowls.club
The Community Hub last opened in January 2020 when, like so many groups, it had to close due to COVID 19. 
We reopened in June 2021.
At present we are meeting on Tuesday mornings from 10.00am to 12 noon. Activities on offer include, new age curling, target bowls, quizzes, table games and craft activities. We are planning to start jigsaw puzzling soon. We also offer tea/coffee and cake.
We are hoping that we will be able to restart our visits to care homes soon. However, this is a decision for the future. In the meantime, we hope that Hillcroft House and Cedrus House are enjoying using the bowls and curling games we gave them.
Each session costs just £3. Carers need to stay and are welcome to take part or just relax with a cup of tea/coffee at a cost of 50p.
Drop in, email carolpybus@btinternet.com or ring  07910 285137
Rookery Bowling Club. Finborough Rd Stowmarket IP14 1PN (opposite Hillcroft House)